ETH has had a huge 2018 and has a lot of momentum with technical upgrades and future roadmap items; specifically PoS.
Vitalik has said 2018 will be the year of ETH "in action". That's always a good sign.
Price calls see some moderate growth in Q1; with a set-up for a big Q2.
Ethereum, the second-largest player in the cryptocurrency market, has made some pretty big moves lately. Since Dec 1st, the price of ETH has surged from $460 to a high of near $1400. This while Bitcoin saw its all-time-high during the same time, but has dropped nearly 50% back from there as the first futures settled last week.
As Bitcoin faces ideological challenges, scaling issues, and institutional players coming in that can manipulate price, a lot of attention has turned to Ethereum in 2018. As many question the future of cryptocurrency adoption (will I ever really buy that cup of coffee with Bitcoin?) Ethereum has a far more promising use case, especially in the long term. So much promise that some of the world's largest enterprises have teamed up to form an alliance on just what this technology holds.
2018 is set to be the year that Ethereum takes its largest moves away from big-brother Bitcoin and into its own realm.
It's started off well too; in just the first month positive news on ETH has come out like that the Canadian Government is exploring ways to use Ethereum to increase transparency. The team wrapped up Q4 with announcements of advancements in many facets; including layering, security, and the number of new users, nodes, and accounts. Transaction volume has now doubled and the blockchain (despite some online cat related disruptions) is running just fine.
Ethereum is also speeding up—up to 20 transactions per second (done in an analysis recently). While this isn't Visa (NYSE: V) level (or even close to it, heck it's not even close to Ripple level), it has the second busiest blockchain in all of crypto and this is 5x what it was at similar times last year. Still, the goal is well beyond Visa level and into something of the million transactions per second goal (as lofty as that is).
This has led Vitalik to talk (and promise) more about "sharding"; his plan to get Ethereum to Visa-like levels by piecing off blockchain parts into "shards" before collecting on the larger chain. He sees this as being a fundamental next step to Ethereum's usability and has focused on it in early 2018, calling this year the "year of action".
Lastly, Ethereum's next big move is going from proof-of-work (the "mining" process that requires a great deal of electric energy) to proof-of-stake; a system in which holders of ETH tokens are rewarded (in some kind of dividend-like system) for holding stacks of the coin. You can read more about that project here (and a lot more here); nicknamed Casper and while there's no official timeline on it, it's clear that work is being done and Vitalik Buterin (the founder of Ethereum) is committed to pushing these upgrades.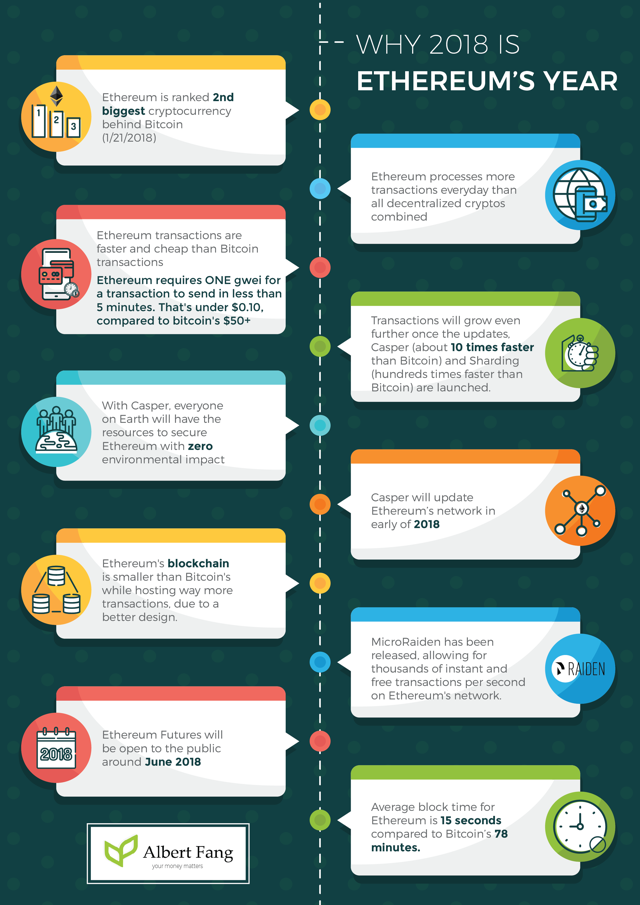 Source: Albert Fang (site link)
Price Target
Even with promising tech upgrades coming in Q1 (and beyond) in 2018, Vitalik's vision is long term. And while success in these initatives should mean more investor confidence—and proof-of-stake lowering supply while that demand increases—there's nothing coming up that should spike the price of ETH. Yet, we still see Q1 being a big quarter for ETH (and ETH-based tokens—which we'll be focusing on in The Coin Agora; our marketplace offering).
For one, Ethereum futures seem likely. We've seen these negatively influence Bitcoin's price (at least so far), and there's certainly a case for institutional investors to use this to move money around in a crypto market full of amateur (and first time) investors. There's also a good chance that many see that ETH, while promising, has been oversold with such a high run-up in late Dec/early Jan and a chance to drop that to a more reasonable price point. We saw this in the same rise in Bitcoin and a great opportunity to short.
I think it's important to note that banking institutions have an imperative to bet against Bitcoin; it goes against their very reason for existing. And its failure could strengthen their foothold in the world's transactional markets. Moreover, some can see its immaturity and the sentiment-driving force that's pulled its price so high.
Ethereum doesn't have that same moral entanglement around it. It does not seek to disrupt one large institution but rather provide them with a new systemic underlay to build upon. That's why there's so much excitement.
ETH futures should bring stability to a price that's remained volatile since it started to rise significantly in early 2017. And while it might drag the price down when large holders see an opportunity to shake hands loose, I don't see it having a detrimental impact.
If we see ETH continue to grow the way it has, we'll see growth that pushes well beyond the .1 BTC ratio that ETH has hovered around at different points. Depending on where Bitcoin moves (and you better believe this has a huge part of where Ethereum moves, at least for now), ETH should follow before breaking enormous barriers. I expect it to hover between .1 and .15 for some time before possibly breaking out.
Why the insistence on ETH/BTC still being correlated? Simple: BTC still rules the roost and will keep a dominance in the market (historically always above 30% even at its lowest points these days). Any news that drops BTC (short of the futures) is a dent on the entire crypto market (ETH included). It'll take larger enterprise movements to shake ETH to moving on its own.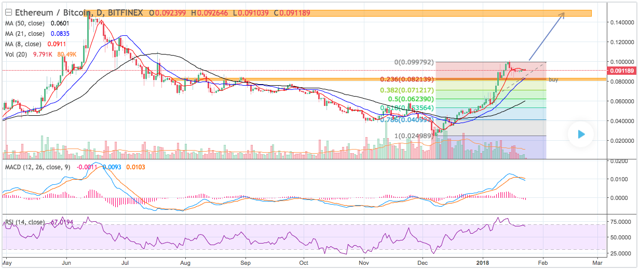 (source: tradingview.com; author: Arbitr27)
To do this, we need to see ICOs take less away from Ethereum (most require ETH to contribute). Until late 2017, most coins were using Ethereum as their gateway too, making Ethereum the top protocol-based layering option you could invest in. Simply put, these coins succeeding means Ethereum must be scaling enough to help them succeed (and ETH used as gas to power their networks). If they fail, well, Etheruem either fails with them or succeeds on its own.
Now, in 2018, we've seen competitors pop up. New ICOs are happening on NEO, QTUM, Stellar, Ardor, and other places. This is good because it reduces the number of ETH traded pre-market AND these ICOs often come with a waiting period (either contractually, or the coins themselves won't hit an exchange for months after the coin offering). This makes me bullish on a stabilization of ETH which enhances the staking properties of Vitalik's vision.
All this: I see moderate growth for ETH in Q1. It's hovering over $1k now and I can see that growing 20% if the crypto market stays healthy (similar to the call here and even in line with this Nasdaq.com article which sees $10,000 ETH as a possibility by year-end). I think it's Q2 where we see a more-stabilized coin and into the hundreds of billions in total market capitalization (it's near $100b right now).