Summary
Alibaba has seen a dearth of upgrades in the past months, as the market's focus shifted to the tax reform in the United States and its potential effects.
Only a few analysts upgraded the stock, such as Instinet, which raised a good point about Alibaba's prospects outside eCommerce.
I discuss one of these opportunities, which could drive an increasing share of Alibaba's growth in the next years.
Recent Developments
China has shown the power of its tech once again at this year's Consumer Electronics Show in Las Vegas. Like in 2017, one-third of the exhibitors at CES were from China. Giants like Alibaba (BABA), Baidu (BIDU) and Huawei were in the spotlight. The market didn't seem to be so excited though, as the stock remained flattish or slightly down. While I am a long-term investor in Alibaba and I don't care much about these day-to-day fluctuations, I have noticed that Alibaba's participation in the show was largely ignored by most market participants.
In general, I think Alibaba and other tech names have experienced a decline in interest from the investment community. What I find interesting is also the uncertain uptrend that BABA has recently shown. After years of regular upward revisions for EPS and revenue, analysts' estimates have been flattish for a few months and not many analysts upgraded their buy ratings. I think this is a bit strange. Alibaba has started to see a dearth of upgrades and no increasing bullishness right when the tax reform shifted the interest towards domestic companies and the benefit that the reform would have to their bottom-line numbers.
The dip in the stock price occurred between November and December was probably driven by a shift of funds from tech stocks to those more exposed to the positive effects of a tax reform. We can even say that this was like a sort of market inefficiency, as there were no fundamental reasons to justify a dip for BABA, BIDU and all the other tech stocks that saw a moderate but steep dip in those weeks.
One of the few upgrades is the one from Instinet a few weeks ago. The guys at Instinet slightly decreased the price target from $221 to $219 and wrote that younger Chinese consumers are becoming a powerful force in that country's economy, which is good news for eCommerce and, therefore, for Alibaba. While they offered an above-consensus estimate for revenue growth this quarter (50% vs. 45% consensus), they lowered their EPS estimate to reflect higher investments in Alibaba's new initiatives on the retail side, including Intime and Hema. They wrote:
JD.com (JD), Meituan and some offline supermarkets are opening stores similar to Ali- backed Hema, which suggests to us that the Hema model is an effective approach to penetrate fresh produce categories. We believe Ali's investments in new retail initiatives could accelerate in CY18F to secure better locations and properties in advance of competitors for its brick-and-mortar stores. Hema announced plans to open 30 stores in Beijing alone this year, even more than the 25 it opened in China in 2017. Consequently, we trim our FY18/19F EPS by 1%/6% respectively to reflect higher investments.
Instinet raises good points mentioning Alibaba's expansion into physical retail, which can be a new source of growth as the integration between physical and digital retail becomes a key point in the commerce industry.
A Deeper Look Into Alibaba's Offline Ambitions
To understand how serious Alibaba is being in the development of its off-line commerce business, we need to give a look at the investment they have made in recent times, which show the Chinese giant is becoming increasingly aggressive in its expansion in physical retail. Let's give a look at the most important investments of the last months:
Alibaba is building a 5-floor mall. The news that Alibaba is building a 5-floor mall near its headquarters in the eastern Chinese city of Hangzhou came out in September. According to Caixin, the mall is being constructed on a 40,000-square-meter plot of land and will be characterized by Alibaba's "new retail technologies", such as high-tech makeup-testing mirrors and virtual fitting rooms, which are included in a set of technologies previously unveiled in Alibaba's "New Retail Interactive Store," in a shopping mall in Hangzhou.
Acquisition of Sun Art Retail. In late November, Alibaba announced a $3 billion investment to acquire a 36% stake in China "hypermart" operator Sun Art Retail, a move that many said looked very similar to Amazon's acquisition of Whole Foods. Unlike what many analysts said, Alibaba is not imitating anybody, and it's fair to say it has been the most aggressive eCommerce players when it comes to expansion into physical retail. The acquisition of a stake in Sun Art Retail is just one of a long series of investments in brick and mortar in the past years, although it's probably not correct to label them as "investments in brick and mortar". Alibaba's intentions go well beyond revenue diversification and include a goal to transform traditional shopping into a blended experience where digital features are key.
In the management's own words:
We don't view this as purely physical retail, but rather as an opportunity to transform from physical to digital. […] We still need physical stores, but we want to redefine the experience.
These are just the most recent investments, which we have to add to a long series of previous investments such as:
A 28.3 billion yuan ($4.6 B) stake in electronics retailer Suning Commerce Group, one of the largest non-government retailers in China. The move was part of an alliance with the electronics retailer, with the goal of giving customers a series of additional services – trying out a product in one of Suning's outlets before buying it on Alibaba, joining the companies' distribution networks to grant faster deliveries, and so on.
A 2.1B yuan ($305 million) in Sanjiang Shopping Club, a Chinese supermarket chain that operates about 160 stores scattered across the eastern province of Zhejiang, which is a smaller investment but still worth mentioning.
A $692 million to buy a 9% stake in Yintai Group, owner of Intime Department Stores, which then rose to 26%, valued at around $2.6 billion, when the retailer was privatized.
A partnership with China's oldest and largest retailer Bailian Group, which does not include any financial investment from Alibaba, but it's still important as the two companies plan to cooperate on supply chain technology using Alibaba's big data capabilities and integrate Alipay payments with Bailian Group's current membership program.
Alibaba is investing in a grocery chain, a shopping mall group, an electronics retailer, the Walmart-like Sun Art, and is even building its own mall. I think Alibaba's investments in physical retail are just going to increase over time. The reason is not just that Alibaba has the distribution network and financial resources to get market share in physical retail and the tech capabilities to redefine the shopping experience, but also because unlike in other places of the world such as the United States and Western Europe, the retail industry is far from being mature in China. As you can see in the chart below, retail sales in China are still growing at double-digit rates: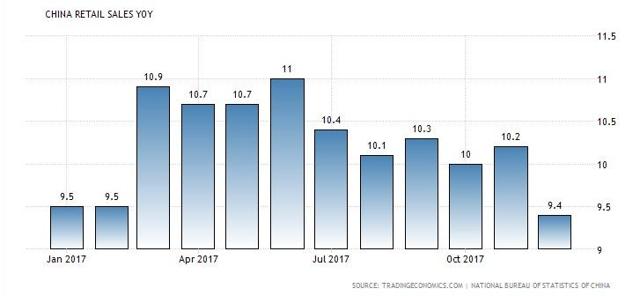 (Source: tradingeconomics.com; National Bureau of Statistics of China)
This compared to anemic growth numbers reported in the United States: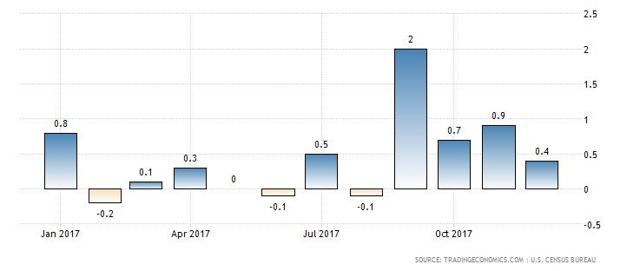 (Source: tradingeconomics.com; U.S. Census Bureau)
The difference is clear and shows the different growth prospects that retailers have in China compared to the United States. It's not a surprise that growth for many retailers in the fashion or luxury industry is mainly driven by China and its rising middle class. Alibaba is in a perfect position to take advantage of this favorable trend, which is set to persist for years and probably a few decades more.
By focusing predominantly on the eCommerce business, the market tends to underestimate Alibaba's overall growth potential in retail, which may lead to higher-than-expected growth rates compared to the 36% revenue CAGR the market is forecasting at the moment. Considering that Alibaba's share in physical retail is not significant at the moment and that brick and mortar retail accounts for about 83% of $5.7 trillion of total retail sales in China, Alibaba may still have a huge growth opportunity in the $4.7 trillion Chinese brick and mortar industry. If it was able to take 1% of that market, which would amount to $47 billion in sales, its revenue could almost triple from the $24 billion reported in 2017. The growth opportunity is massive and Alibaba can take advantage of it from a privileged position, as its fast-growing core commerce business is a cash flow machine that produces a huge amount of resources that can be invested in other segments.
The Risks
I have a positive view of BABA as an investment and that's a known fact. The growth optionality in the physical retail business is one of the reasons why I remain bullish on this name. Nonetheless, Alibaba may fail to impress in its brick and mortar ventures, as any business carries a certain risk. The main risks I see here are the following:
The high investments in the physical retail industry may compress margins and bottom-line growth. This shouldn't be a big problem considering that the market is willing to focus on top-line growth and value many tech giants according to what they are supposed to earn in 5-10 years, although we can't be sure the approach to value these tech names will remain the same forever.
The expansion plans in physical retail may not work as expected and the new retail paradigm may fail to attract the customers' interest. I think this is a small risk. Alibaba had the chance to study and test some blended retail concepts for years. It would be silly to invest in something that hasn't shown attractive prospects and that's why I think they know this segment of retail can offer good growth opportunities. They probably based their investment decision on what they have seen with the "new retail interactive store," or with Hema and Intime Group.